Buy Sell or Get Out Seminar Course –  Available Now !!! 
Sale Page : 
  Original Price: $
You just pay: $43
---
Description:
The discussion and demonstration of Price Action will change the way you trade the market forever.
This video shows everything that happened at the Buy Sell or Get Out Seminar at LaCosta Resort in Carlsbad, CA.
You will see how buysellorgetout really works. We have live trading at its best. New techniques in trading and simple solutions to trading ranges are demonstrated.
There are testimonials on this link from students that attended the seminar.
The BSG Seminar Video covers:
1. Breakout Systems
– History
– Advantages of a Trading a Breakout System
– BSG Design
– Managing Exits with BSG
– Suggestions for Using BSG
2. Trading Psychology
– Attitude
– Discipline
– Stress and Mental Health
– Intellect and Trading Success
3. Trading Obstacles
– Funding
– Learning As You Go
– Trading Plan
– Overconfidence
– Big Expectations
– Overtrading
4. Technical Analysis
– Overview
– Types of Indicators
– Using Technical Indicators
5. Price Action
– 50% Rule
6. BSG
– Support & Resistance
– Entries
– Exits
– Stops
– Larger Timeframes
– Trend Bars
– Filters
7. Multiple Timeframes
8. Double Tops & Bottoms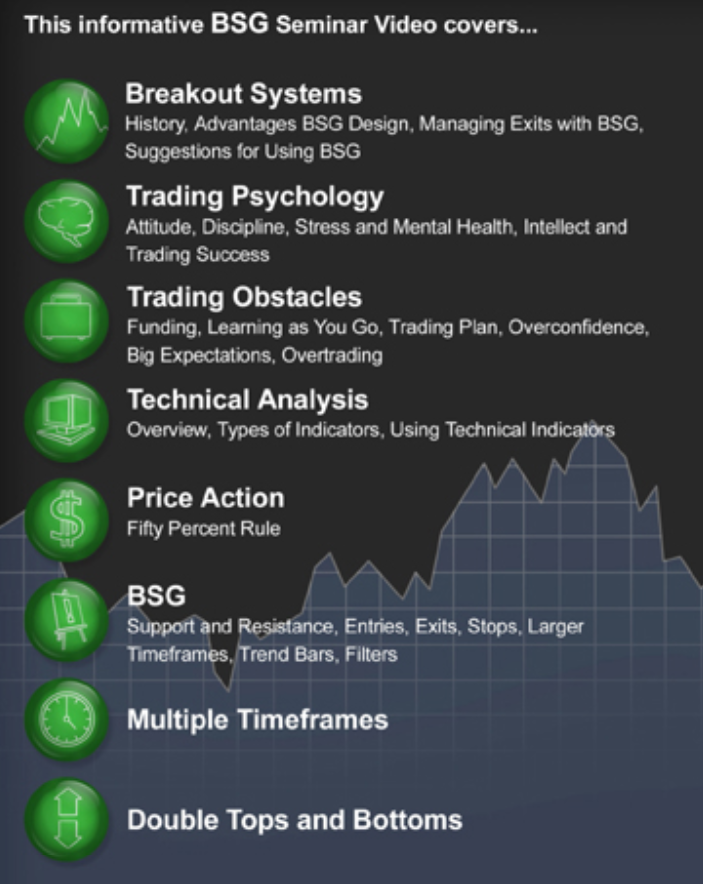 Please kindly contact us if you need proof of item.